Hong Kong Government announced to adjust quarantine policy on 8th August 2022. From 7 Days Compulsory Hotel Quarantine to 3+4 model. That is 3 days compulsory quarantine in the designated hotel plus 4 days medical surveillance at home. The model will be effective on 12th August, 2022.
Vaccine Pass Codes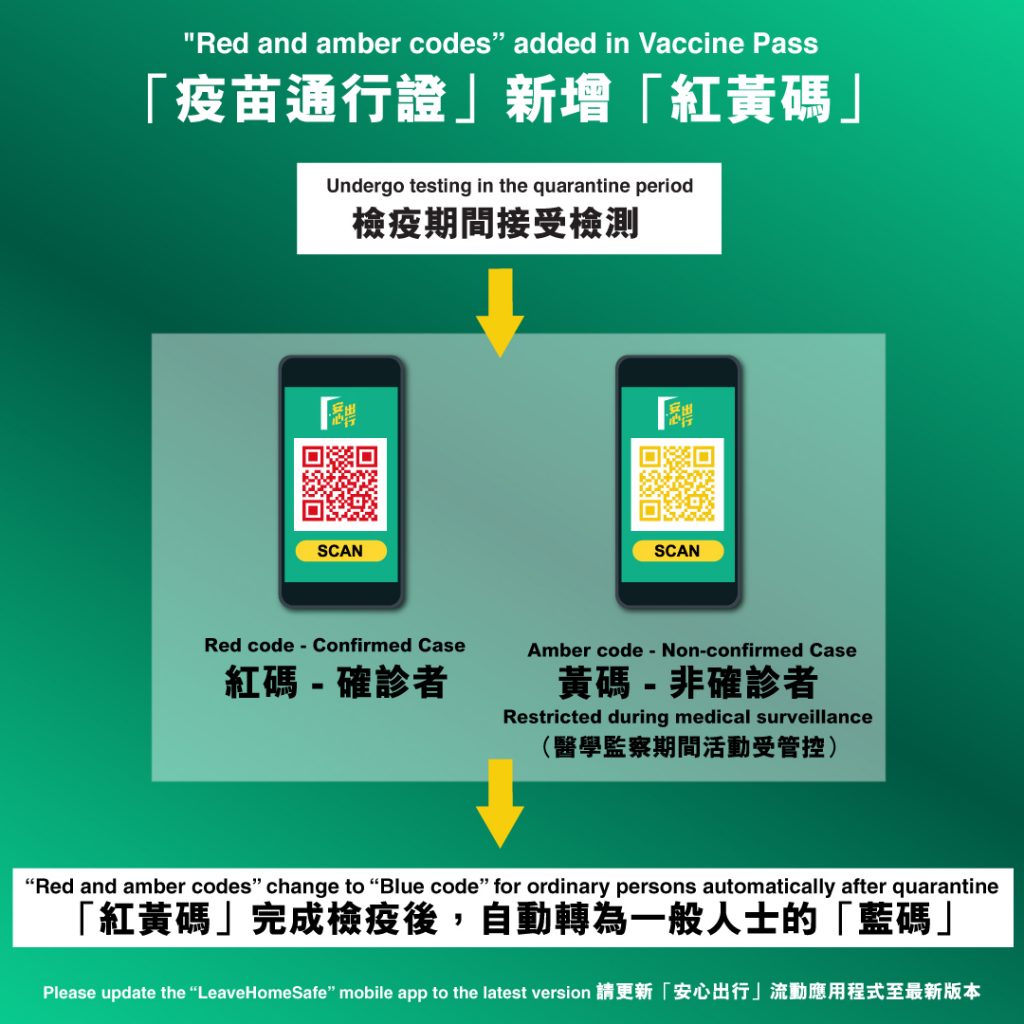 Red Code
Compulsory Hotel Quarantine Arrangement: You need to conduct the first nucleic acid test on the day of arrival as Day 0. If you are consecutively having negative result in the morning on Day 3, then 3-day hotel quarantine is completed.
Amber Code
4-day Medical Surveillance: You suppose to stay at home or in other self-arranged accommodation for 4 nights till Day 7. You can conduct daily essential activities of lower risks. For example, taking transport, going to work, entering supermarkets and markets, etc. However, you cannot enter high-risk premises involving mask-off or group activities. Such as restaurants, bars or pubs, elderly houses and hospitals etc.
Conducting more frequent nucleic acid tests and Rapid Antigen Tests (RATs)
Travelers need to have multiple tests after arrival at Hong Kong, the schedule as below:
Day 0: Day 0: nucleic acid test at the airport;
Day 2: nucleic acid test in Designed Quarantine Hotel;
Day 4, Day 6 and Day 9: after obtaining negative results of RATs on respective day. Travelers should undergo nucleic acid tests at a community testing centre or a mobile specimen collection station. Or arrange a self-paid test by professional swab sampling at a local medical institution recognised by the Government; and
During compulsory quarantine, medical surveillance and self-monitoring period, Travelers are subject to daily RATs until Day 10 of arrival at Hong Kong.
We hope everyone's life goes back to normal very soon!
For further information, please contact us.
You may want to read: LOCKDOWN IN DONGGUAN OFFICE 2022